Chula League is a nonprofit formed in 2005 to support the arts, art education, and artful outdoor spaces in East Austin managed by a small, grassroots board of directors.
We work to ensure that the arts and public outdoor spaces play a valued role in the educational, economic, and cultural well being of East Austin neighborhoods. Chula produces a variety of projects to achieve its mission and purpose, including its flagship event the Cherrywood Art Fair and the arts-mentoring program Little Artist BIG ARTIST.
Our Mission
The purpose of Chula League is:
To support arts and arts education
To advocate for our children's future through positive, productive, and meaningful mentoring relationships
To produce and promote community events for emerging and established artists and artisans
To enhance or preserve the beauty of public outdoor spaces through art, design and creative activity
To revitalize East Austin and attract visitors to our city for increasing economic impact
While daily operations are led by Chula League's executive team (elected officers + Executive Director), the appropriate and supportive involvement of board members is both critical and expected for the success of the organization.
Our governing documents and conflict of interest policy can be made available by emailing secretary@chulaleague.org. Financial statements and impact summaries are published on GuideStar.
Join us to help support the arts and cultural diversity in East Austin.
BOARD OF DIRECTORS
Advisory Board
Holly Herrick, Austin Film Society
Maddie Kadas, Beveridge & Diamond PC
Rick McNulty, KUTX
Sarah K. Wolf, The Austin Chronicle
Time Commitment
Board member terms are for two years, from election at the annual meeting in February until the following annual meeting. Board members may serve multiple consecutive terms. Each board member is required to carry out the following duties during their term:
All board members are expected to attend bi-monthly meetings, up to 12 hrs per year.
All board members are expected to attend 'special session' meetings called by chair, up to 6 hrs per year.
All board members are expected to participate in the evaluation of program opportunities and funding for programs at regular board meetings.
Participate in the evaluation of financial results, operations results, and impact results at board meetings.
Participate in high level planning activities based upon interest and talent — up to 8 hours per year.
2017 Meeting Schedule
Board meetings are open to the public and held on a bi-monthly basis. 2017 board meetings are scheduled for the following dates:
Tuesday, April 4th 7-9 pm
Sunday, June 4th 1-3 pm
Tuesday, August 15th 7-9 pm
Sunday, October 15th 1-3 pm
COMMUNITY
East Austin has a diverse demographic and rich cultural heritage. Many of Chula League's past projects have been in the area bounded by Interstate 35 on the west, Airport Boulevard on the east and Martin Luther King, Jr. Boulevard on the south. However, all of East Austin is our home!
Community and Neighborhood Partners
Allan Elementary
Austin Heights Neighborhood Association
Blackland Neighborhood Association
Battleground TX
Blackshear Elementary
Cherrywood Neighborhood Association
Duplex Nation Neighbors Group
E.A.S.T.
Eastside Compost Pedallers
Friends and Lovers of Willowbrook Reach (FLWR)
Friends of the Green (FROG)
Friends of Patterson Park (FOPP)
Girls Rock Austin
Harris Elementary
Imagine Art
KOOP
Maplewood Elementary
Oak Springs Elementary
Pump Project Art Complex
ReNEW East Arts Complex
Schieffer Willowbrook Neighborhood Association
Vortex Repertory Company
Wilshire Wood/Delwood 1 Neighborhood Association
Zavala Elementary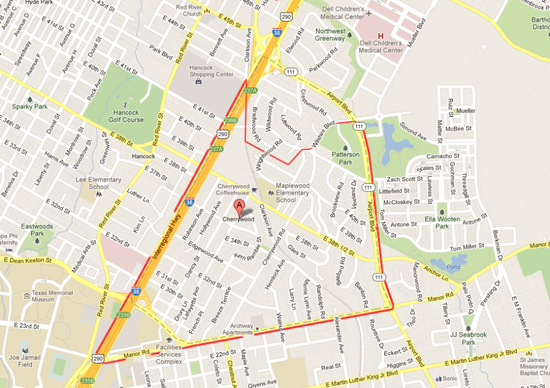 Save
Save