What pops into your head when you think of lasers? Technology? James Bond movie villains? How about art?
For Big Artist Katie Cowden, lasers are just part of a day's work. Katie uses a laser-cutting machine to cut out her designs from materials such as plywood. Then she turns those cut-out pieces into art or jewelry.
Katie's Little Artists, Lauren and Emma, are using the same process to create "altar box" assemblages with their own cut-out designs. Sadly, they don't get to use the laser-cutter just yet.
The day Katie arrived at Maplewood Elementary with her big Mary Poppins bag full of art supplies — and the cut-outs Lauren and Emma had drawn in a previous session — was a great day for everyone.
"They were so excited when I pulled out their pieces and they saw the physical manifestation of their work," Katie says with a big smile.
She's also teaching painting skills, such as blending, layering and wet-brush techniques. From her bag she sometimes pulls out tools the girls hadn't thought about using: a nail brush, for example, or masking tape. (The girls thought that was cheating.) For Lauren's sunset design, Katie asked them to look closely at a photo she brought. They noticed how the colors were layered and streaky, and the lines uneven.
But Little Artist BIG ARTIST is about more than art lessons — It's also about entrepreneurship. Katie is also teaching Emma and Lauren how to think about their audience and what people might want to buy.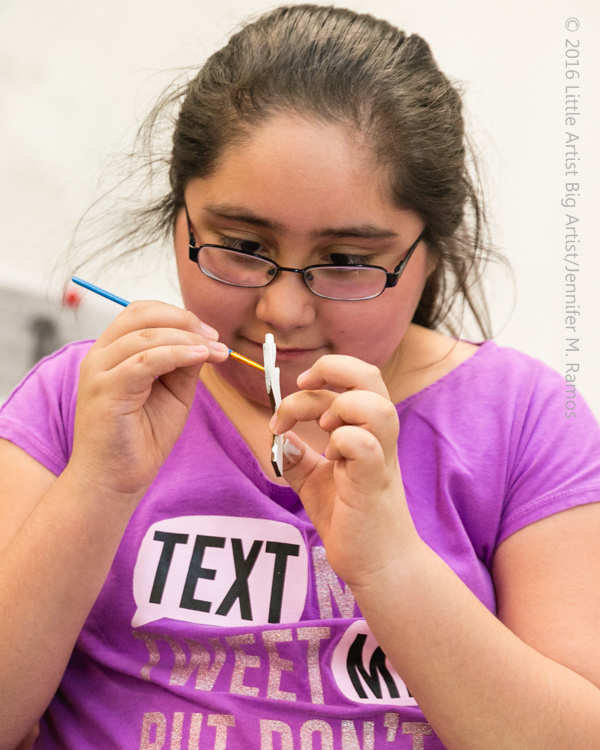 They talked about color theory and how people are drawn to bright colors and things that are cute and happy. They brainstormed about what might appeal to Austinites. That led Lauren to choose a bat theme. Emma is going with a theme we see here often: Dia de los Muertos, something she knew a lot about from her family traditions.
"Each of them brought something different from their cultural backgrounds," Katie says.
The girls are learning how to take their backgrounds, their interests and their imaginations and do something that could turn into a career. Katie loves helping them find the confidence to say, "I can do it, too."
She needed that confidence herself when she quit her job three years ago and decided to make a living as an artist. It came from her mother, she says.
"My mom was a teacher and an artist, so she never discouraged me," Katie says. "She never said, 'You can't do that.' I like to be that voice for the Little Artists."
With a laser and a desire to make a difference, It's a safe bet she is.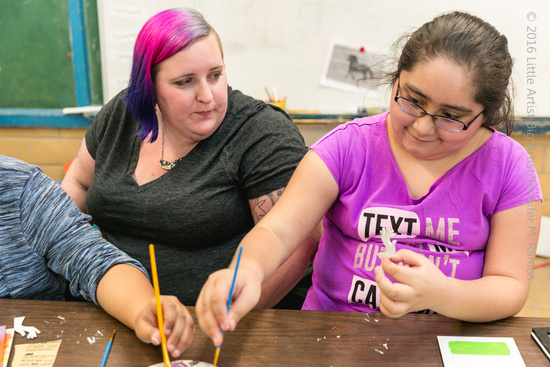 Katie Cowden
Years as a Big Artist: 2
School: Maplewood Elementary
Favorite thing: "When kids don't believe they can paint as intricately as they can, and then they do!"
Where to find her work: Katie's pieces are sold in local businesses such as salons, vintage stores, and galleries. She also does custom and wholesale work. Check out her Etsy store, Killer Queen Jewelry.
See how Katie uses lasers to make art in this cool video.