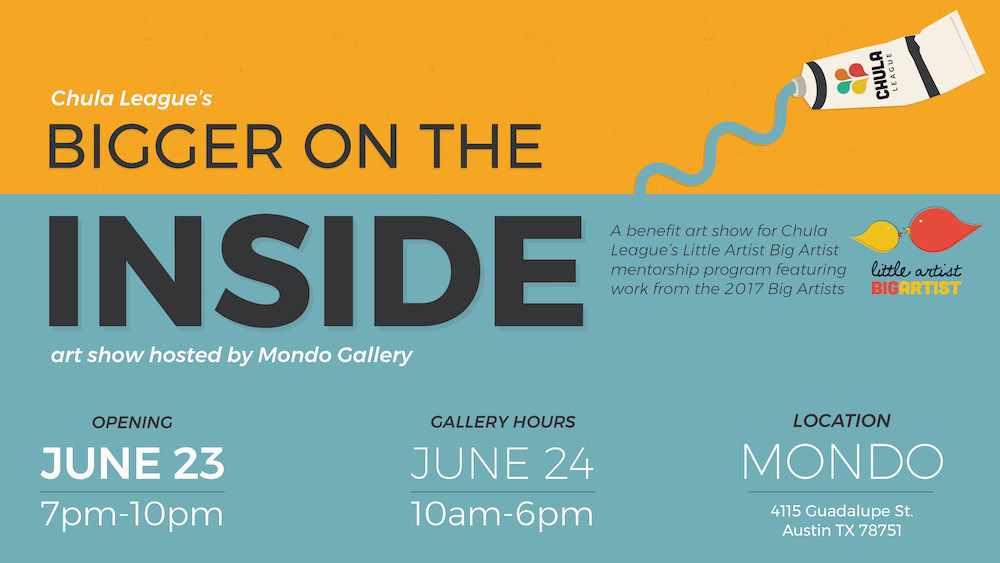 We are so excited to be partnering with Mondo Gallery to present our Bigger on the Inside art show. We'll be showcasing the work of over 60 artists, both Big and Little! The art pieces from our Big Artist will be for sale, and the work from our Little Artists is a preview of some of the work that will be on auction at the Cherrywood Art Fair in December.
Sales from our FREE art show benefit our arts mentorship program, Little Artist BIG ARTIST. Join us for our opening
reception, Friday, June 23, at 7PM. Come enjoy free drinks from Austin Eastciders, Brown
Distributing Co, and Sway Water, free food from Mmmpanadas, and a fun photobooth courtesy of Social Flash Media. DJ Anominiss will be playing all your favorites to keep the party rolling. Can't make the opening, but still want to check out the art? Stop by Saturday, June 24, 10AM – 6PM.
Show Info:
June 23, 2017 – June 24, 2017
Opening Reception: Friday, June 23 • 7-10PM
Gallery Viewing: Saturday, June 24 • 10AM-6PM
Hosted by Mondo Gallery • 4115 Guadalupe St • Austin, Texas
Check out our Facebook event or EventBrite for more details.
Comes support your local art community with us!